Network infrastructure technologies continue to evolve and adapt to hosting facilities. It is highly necessary to ensure your website has the best service. You will need a dedicated server in Pakistan if your company is serious and planning expansion. Your account is just one of those on the same site with VPS or shared hostings. You can not respond to high web traffic and make your publicity and advertisement campaigns worthless. In other words, platforms of dedicated solutions that offer 100% of the web resources to one single user from the beginning of the network. The most common explanation for choosing a dedicated server in Pakistan is that these servers provide high-performance features. Although other hosting types sell RAM fragments and CPU cores slices, dedicated services provide all of them to one customer's needs.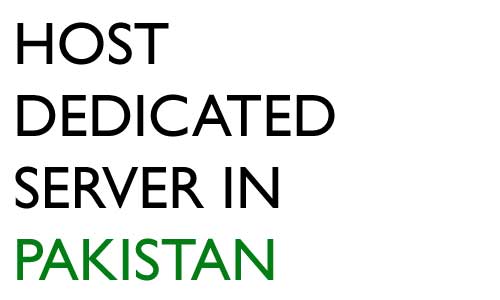 Why Used?
This decision becomes apparent as you look at a medium to a large organization that requires several servers. This is an individual platform that is useable particularly for a single person. In contrast to common services, only one user can freely access accessible resources with any resources of many users. Anyone searching for the highest security is perfect for a dedicated server Pakistan operated by one single business person. Online business owners are aware that such systems are more effective, fast, safe, and confidential. You can use this feature for all available resources such as RAM, storage, computer control, etc. The benefits of high performance, security, and connectivity are providing by this functionality. In addition, it offers root access and the total strategic authority over consumers. Websites with high traffic volumes are often use in this platform.
Full Performance With Security
A dedicated web feature, operated by one entity, is suitable for those who want the greatest protection. Because no other user has access to any server infrastructure, it can strongly lock up the entire hosting account to optimize data privacy and confidentiality. To maintain your data and knowledge, DDoS security and other alternatives are offered. With the ability to attach external devices and provide security benefits, a separate server is applicable for a specific user. It also encourages the use of hardware or IDS / IPS firewalls, while at the same time improving traffic management and security on your platform and the data which you send to your customers without any impact on others.
Administrative Control
There are several configuration and system configurations that can not be updated across the system of any other than the dedicated hosting account type. The ultimate in root access and management oversight is open to consumers. Web-based software for controlling and managing the server processes is a control panel. The design may be modified and other personalized functions performed to conform with the control panel requirements. For the different operating systems, usually, Windows and Linux control panels are normally installed. It contains the Linux based operating system root and the Windows OS remote desktop. If you have a cPanel or Plesk-ready server, you can choose a custom operating system.
IP Address
It enables you to enjoy your unique IP address, anonymity. Many account forms do not sell blocks for either price as an alternative. There can be justifications, however, for having more IP addresses with a dedicated approach, particularly if the dedicated client sells spaces to others. Also, to obtain your SSL certificate you need IP addresses for more security and validity. Through your unique IP address, you can also gain connectivity and power to your server while also enhancing site performance. Few services mean few chances to load applications quicker and this matters directly to the search positions. So buy a dedicated hosting server in Pakistan or even go for virtual private server in Pakistan in the absence of a shared hosting environment that allows downloading your preferred operating systems and valid IP addresses.
Reseller Service
This is the best choice if you want to operate reselling services in your particular region. This is the best decision to improve and manage quality management and value reseller services. For those who want to operate a hosting services company, leasing a dedicated server, and then adding user accounts, provides the reseller with total control over which customers have access to how many facilities. This level of protection helps a reseller to retain a high level of reliability and monitoring without caring about the connecions of other resellers to any of the networks.
Management Criteria
If you eventually start with that, it is important, in order to maximize its performance and longevity, that the server is retained and maintained. In addition to offering these kinds, most dedicated providers provide similar maintenance and managed services at an added rate. On another hand, unmanaged refers to the option that does not have additional management/maintenance in contrast with the managed. Under this hosting scheme will you have your tools and an operating system and nothing else. You will have to mount all other software you need to obtain them yourself.
Best provider In Pakistan
The best and most accessible hosting services are providing by the Pk-Domain. With maximum efficiency and high performance, all functions are productive. Our company has the latest innovations in the IT sector with web hosting in Pakistan. We have several servers for your web page running and we are also the best domain registration provider in your region. We know that consumers have issues, that is why our staff is polite, knowledgeable, and IT related. Everyone can easily avail our services at a cheap cost and fastest deployment time.
Summary
In general, when you need more than minimum resources and low space so than this is the best option. It's the perfect place to reach a massive online enterprise. Nobody can feel congested in this way because it is a separate resource system that relies entirely on you. If you find it difficult to keep up with increased traffic, it might be time to move the website into this form. This is basically a service that is only accessible on your website, which improves the performance and load times of your website and boosts the reliability of your website. Similarly, these programs are provided by several businesses. Pk-Domain is also the leading organization known for handling dedicated servers of all sorts.