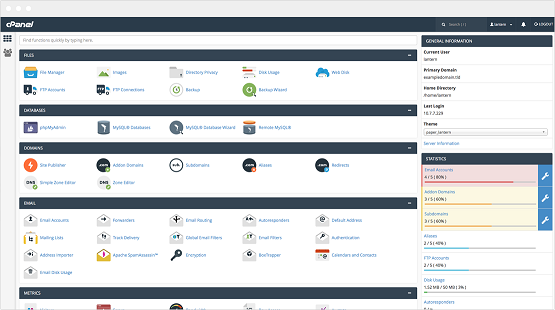 Many kinds of businesses are running their business website through the Cpanel portal. Through VPS hosting in Pakistan, businesses are expanding their position in the current market. cPanel is the basic interface of managing the Linux based operating systems. Linux is the operating system that relies on web hosting infrastructure. With our cPanel, all client that is based on Pakistan can easily manage and manipulate their own VPS server. Anything can be easily manageable in our hosting by using the control panel access. For web hosting services, we deliver Pakistan's fastest and cheapest supplies with 24/7 customer support communication. Because of our reliable and efficient work progress, so many satisfied customers are registered with us.
What is cPanel?
How does cPanel work?
VPS Hosting
Operating System
Privilege
cPanel Hosting with our company
Conclusion
What is cPanel?
cPanel is a control panel for web hosting developed by American company cPanel, L.L.C. The Platform provides a graphical interface and automated tools to simplify the website owner's or "end user's" hosting operation. cPanel is an online graphical interface (GUI) for Linux that is used as a control panel to ease the management of websites and servers. cPanel enables the publishing of blogs, the management of domain info, database files, email accounts, etc. As a part of their hosting kit, many web hosting companies offer cPanel to their customers. There are two interfaces in cPanel, the cPanel user interface and web host manager (WHM) server management interface. This combination enables users to manage their website and provides hosting providers with server management tools.
How Does cPanel Work?
cPanel relies on the operating system and the one and only Linux is the main operating system in which cPanel based on it. Basically, cPanel is the third party application that is supplied with your hosting account. And in which you can manage and monitor your hosting account with this GUI. because of the Non-free interface, Cpanel is not available with free of cost. mostly companies provide this panel for one year free of cost. With your VPS hosting, you can easily avail of this service and ask for the cPanel. cPanel is a Linux-based web hosting control panel that provides a graphical interface and automation tools designed to simplify the process of hosting a web site. Through cPanel, end-user website owners easily control the various aspects of website and server administration through a standard web browser.
VPS Hosting with Linux
VPS hosting gives you complete control without running your server without the need to access guaranteed resources. This is an excellent solution for websites for medium to high volume, heavy-duty resources, and eCommerce. Virtual private servers have a large space to manage the web hosting environment. Because VPS is the option for using a website that is based on high traffic and large space of data and bandwidth. VPS provides dedicated and private resources to multiple users so, for this kind of a large size of data transmission and space monitoring, Cpanel allows a better experience to fetching website requirements.
OS in cPanel VPS
VPS hosting servers with cPanel are based on only the Linux based servers. Operating is a collection of software that runs all system hardware and other resources. In Cpanel VPS hosting, Linux is the only one Os that run all the server resources and programs. Generally, Linux s the most common and low-cost hosting server that's most popular servers. Most of the hosting companies using Linux hosting because of its affordable and low price.Linux deals in SSH root access with Cpanel.
Privilages
A VPS hosting account is lower than a complete, physical server hosting plan. You will pay for what you want in many VPS plans, but you don't have to deal with anything you never need. Many plans are easily scalable for cPanel VPS Hosting. Everyone can start with the least amount of resources in your virtual environment and gradually improve your hosting plan to meet your needs. You don't have to pay for too much money you haven't yet developed into. You control your virtual server much more than you do with hosting shares. The SSH root and the ability to use Cpanel will make your hosting experience good.
cPanel Hosting with our Company
We have the latest Virtual Private Servers with the most common functionalities of the cPanel interface. we are one and only that work with full reliability and efficiency. You will feel free after getting in touch with our hosting because of our friendly and supportive team via 24/7 communication. You have no need to worry about your website monitoring, our team will assist you in all situation for your website growing. Our company knows that in many ways clients may feel trouble with hosting accounts that's why we trained our staff with technical and friendly communication skills. Now VPS services are available at a low price and with root access options. We have next-generation firewalls, intrusion prevention, web application defense, DDoS protection, malware, and virus prevention. We have SSL, Dhcp, and spam filtering licenses.
Conclusion
Consequently, all services regarding cPanel VPS hosting are available with our account. Generally, We design all kinds of VPS plans for mid-level, and high-level businesses. All packages are available at a low-cost price with maximum output. We have full backup and connectivity surety against all servers availability. Furthermore, Cpanel VPS hosting provides all the clients better work experience with SSH root access and easy to monitor services.